Today's Miracle Moment Is About How Being Willing to Fail Can Get You in the Miracle Zone

…
Often we think of failure as the last thing we want to experience. The word failure can bring up feelings of shame, missed opportunities, and loss. 
We're here to tell you embracing failure is exactly what can get you in the Miracle Zone!
One thing that some of the most successful people have in common is that they've been willing to fail along the way. 
For example, we're all familiar with the Harry Potter series. These bestselling books have sold 500 million copies and they've been made into Hollywood blockbusters. The author of these books, JK Rowling, had to go through a lot of failure without knowing that any of this success would ever happen. 
Back in 1994, J.K. Rowling was a single, struggling mom who'd just gotten a divorce and was on government aid in order to make ends meet and feed her baby. When she was trying to get a publisher for her book, Harry Potter and The Philosopher's Stone, she had to manually type out each version on an old-school typewriter to send to publishers because she couldn't afford the cost of a computer or of photocopying it. 
Once she started putting her book out to publishers, it was rejected dozens of times. 
Finally, a small publishing company gave it a second chance after the CEO's young daughter read it and loved it. Today, J.K. Rowling characters and stories are embedded in our pop culture and beloved around the world. She has a net worth of $1 billion dollars and she has made many charitable donations and used her success for the greater good.
Two other examples of successful people who have been willing to fail along the way are the creators of the Chicken Soup for the Soul books and Marci's co-authors, Jack Canfield and Mark Victor Hansen. As they were trying to get their first Chicken Soup for the Soul book published, Jack and Mark were turned down by 143 publishers. But they kept going because they knew this book had to be out there. 
Because they persisted and didn't give up, they made it to the 144th publisher, and that's who took a chance to publish the book. 
The rest is history.
JK Rowling, Jack Canfield, and Mark Victor Hansen each experienced failure along the way without knowing what could possibly ever happen. They were successful because they viewed failure not as an end-point, but just one stop on the path towards their success. 
Here's a physical practice you can do to support you to keep going — even when you hit roadblocks or failures along the way: 
Imagine the feeling you experience in your body when you're inspired. This is usually an uplifting feeling. 
Now, imagine the feeling you get when you feel shut down or hit a roadblock. In this case, you might feel a pit in your stomach and a heaviness. Pay attention to how that feels. 
The next time you experience this pit-in-your-stomach heavy feeling, allow yourself to feel the feeling instead of pushing it away or running from it. By sitting and breathing with it, you will allow it to disperse and dissipate.
As it releases, you will feel more spaciousness and more of the inspired, uplifting feeling that supports you to keep moving towards your goals. 
We encourage you to follow your inspiration and stay committed to the success you're working towards. See any roadblocks or "failures" simply as checkpoints along the way.
"Never wait in expectation of perfection or you'll wait forever. Do the best you can with what you've got, and be one of those who dared rather than those who merely dream." — J.K. Rowling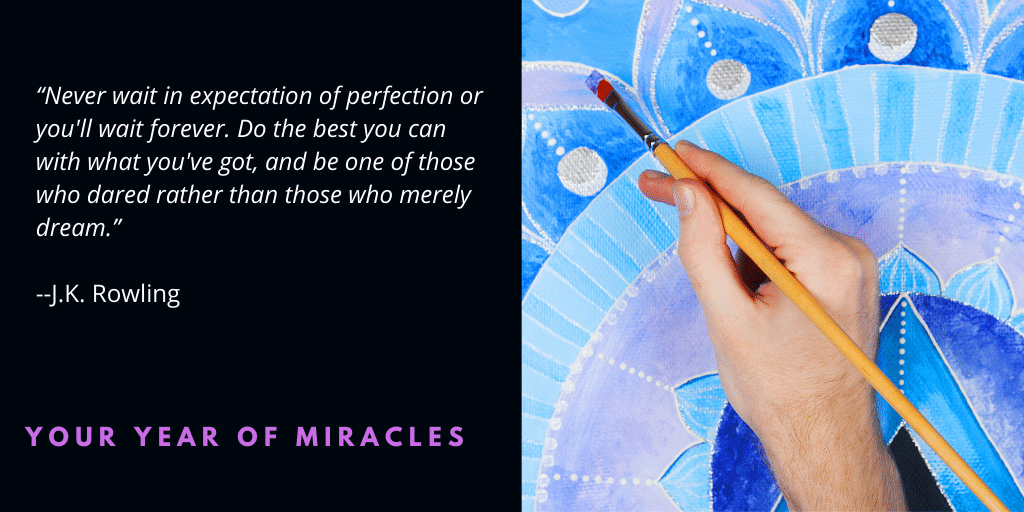 How will you embrace failure on your road to success? Leave a comment below to let us know!